Redwood City, Martinez, Burlingame, Monte-Rio and Salinas. There are links at the bottom of this page to arches in 19 additional towns.





This, Redwood City's northern most welcome arch, was built in 1926 and was widly known as the "Climate Best by Government Test" arch. The 20ft. high by 60ft. wide arch spanned El Camino Real at Broadway. The town's name, REDWOOD CITY was spelled out with electric lights in 36" high white enamel letters. Below the city's name was the slogan, Climate Best By Government Test, also illuminated.
About the same time in 1926, an almost identical arch was erected over El Camino Real at Five Points, near the southern limits of the city. The cost for each of the arches was approximately $1,200. Due to a height restriction law passed in 1963, the city was forced to get rid the arches. The southern arch was removed in c1964 and the northern one in 1970.
In November of 1994, two, three-quarter size replicas of the original arches were built and erected, one at each end of a short section of Broadway, where they stand today. I am happy to say that my book, ARCH RIVALS, played a small part in winning over the board that voted in favor of funding the new arches. Redwood City Library photo.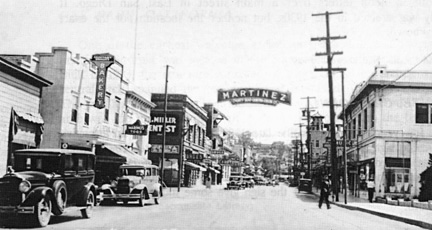 Suspended across Main Street in Martinez, CA, this welcome arch/sign, besides carrying the city's name declared that it was the "County Seat of Contra Costa County." It is not known just when the sign was installed, or removed, but it was there until at least 1937, possibly much longer. Martinez Historical Society photo.





This attractive Art Deco arch across Broadway at California Drive in Burlingame, CA was dedicated on April 23, 1927. Surviving a long and controversial history of admiration and neglect, it was saved from destruction in 1987, by a community effort to raise the $50,000 needed to restore it.
In 1987, the arch was removed, reconstructed and then "planted" 50 feet to the west of its original location where it stands today. It was rededicated on November 26, 1988.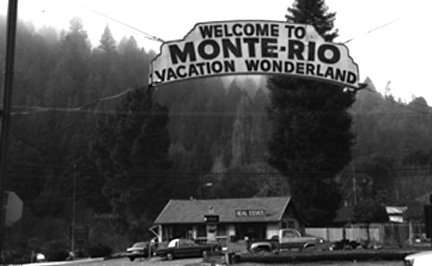 Monte-Rio has been a popular Russian River resort for some 70 years. This welcome arch/sign over the town's main street carries two messages. On the Highway 116 side (in photo), it reads "Welcome to Monte-Rio Vacation Wonderland." On the reverse side, the message is "Monte-Rio awaits your return." The sign was reportedly erected by the local Chamber of Commerce in the late 1940s. Monte-Rio Chamber of Commerce photo.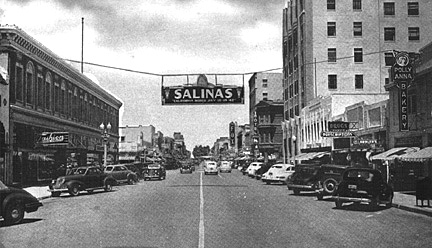 This post card view is of the welcome arch/sign sign that was erected over Salinas' Main Street ( Highway 101) in Salinas, CA, during the 1920s.
The message below the town's name varied over the years, but the one on the sign pictured above reads, "California Rodeo July 16-19-42." The year the sign was removed is not known for sure, but it was obviously not before 1942.


If you know of any Welcome Arches in California, past or present, that are not shown here, I would like to hear from you. In my book, Arch Rivals, I have many more and some will be added to this site, but I am always looking for any that I may have missed.

Click here to Email us