VACAVILLE - PLEASANTON - LODI - CASTROVILLE - FAIRFIELD


Click here to Email us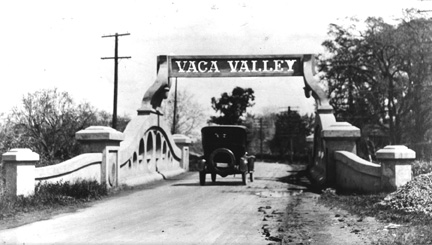 The 1928 photo above is of the Lincoln Highway bridge that spanned Alamo Creek at the western edge of Vacaville. The reinforced concrete arch with the channeled letters spelling out VACA VALLEY was part of the bridge from 1915 until 1935, when the bridge was removed. Lincoln Highway became Highway 40 in 1935, and many years later, Interstate 80. Vacaville Heritage Council photo.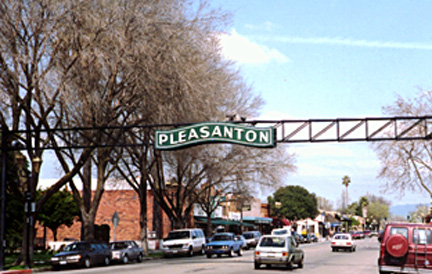 Pleasanton's attractive welcome arch, which was erected in 1932, has an interesting history. For example: it was among the first in the country to be lighted by neon, rather than incandescent bulbs.
The arch was also in a 1941 movie starring Abbott and Costello, titled, "It Ain't Hay." Because the movie, which was being filmed in Pleasanton, was suppose to be taking place in a town called Saratoga, the name on the arch was temporarily changed to SARATOGA.
During World War ll, the sign was blacked out, all except for the letter "P, which was allowed to burn brightly." Some old timers still remember when Pleasanton answered to the name, "P" town. Photo by Kim Page, Pleasanton.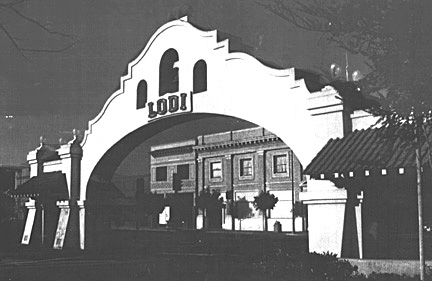 To say that this is the oldest standing welcome arch in America is a big claim, but is very likely true. It was built in 1907 as part of the city's first grape harvest festival, then called the Tokay Festival. At one time, a small sign suspended from the center of the arch carried the message "For 100% Americans." It is not known for sure when it was added or taken away, but it is thought it might have been a patriotic gesture during World War l. Still in place and looking as good as new, Lodi's arch is California Historical Landmark #931. Photo by Roger Lammie, courtesy of Lodi Chamber of Commerce.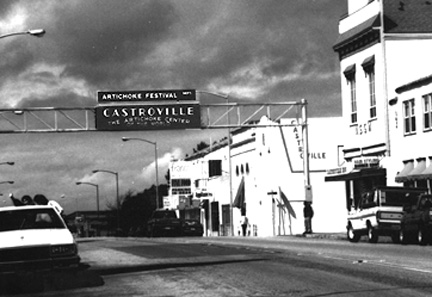 Built in 1931, this 70 year-old welcome arch is unchanged in appearance from the day it was erected. In large letters, it spells out CASTROVILLE and, underneath, in smaller letters, the town's slogan "The Artichoke Center of the world." Above the main sign is a smaller one that reads, Artichoke Festival, followed by the festival dates, which change each year. Marilyn Monroe was Castroville's Artichoke Queen for one of the years shortly after the war, c1946-47. Ausonio Construction Co. photo.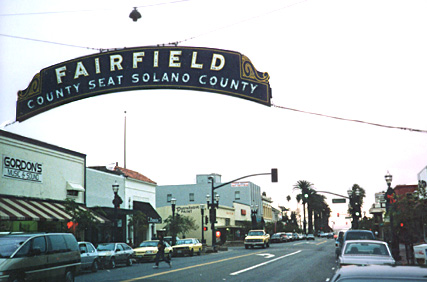 Dedicated on October 25, 1925, this welcome arch/sign still spans Texas Street, between Jackson and Webster, where it has for the past 76 years.
Its location was chosen because, at the time, Texas Street was both the city's main Street and State Highway 40. Jackson and Webster Streets represented the geographical center of Fairfield.
Although, because of the city's growth and many changes, the arch/sign is no longer in the geographical center of Fairfield, many would agree it does represent the historical center.

If you know of any Welcome Arches in California, past or present, that are not shown here, I would like to hear from you. In my book, Arch Rivals I have many more, and some will be added to this site, but I am always looking for any that I may have missed.

Click here to Email us





Welcome Arches #3
Welcome Arches #4
Welcome Arches #5