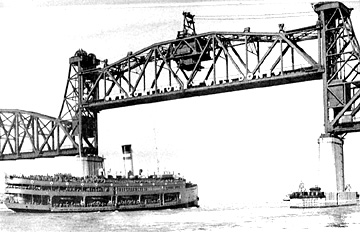 Southern Pacific's Martinez Bridge welcomes home a shipload of
servicemen from the war in the Pacific. Photo:Caltrans

Shown above is the Southern Pacific Railroad bridge over Carquinez
Strait. The final link in their transcontinental line to Oakland, the span
connected Army Point in Solano County with Martinez in Contra
Costa County. When completed in 1930, this mile-long structure was
the largest and heaviest railroad bridge west of the Mississippi River.
The bridge replaced an auto and passenger ferry between Vallejo
and Rodeo that had been in operation for over fifty years. It also
retired the train ferry Solano, which was owned by the S.P. Railroad.
The Solano, at that time the world's largest train ferry, carried the
company's railroad cars across the strait between Port Costa and
Benicia so they could continue their journey.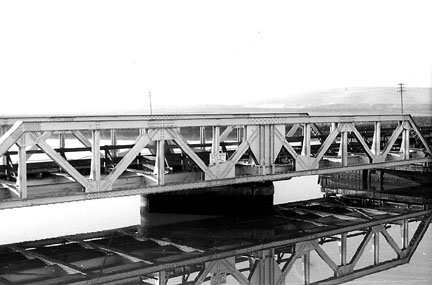 Southern Pacific R.R. bridge over Pacheco Slough in Martinez.

The small swing bridge shown above belongs to the Southern Pacific R.R. It was built in 1901 as part of their Martinez /Tracy line.

More than a century ago, the town of Pacheco was head of navigation on Pacheco Creek, which empties into Pacheco Slough. Schooners drawing up to six feet of water called on its wharves on the high tide. In the year 1867 alone, more than 700,000 bushels of wheat , plus a large quanity of other products were shipped from its docks.
Pacheco's days as a "river" port were literally washed away when, in 1868, floods destroyed much of the the town and drove most of the people to higher ground.

In 1910, the Southern Pacific R.R. built a railroad swing bridge across Alhambra Creek in Martinez. Located at the end of Berrillesa Street, it was removed in 1924.
Also in Martinez, on Waterfront Road, there is currently a small highway swing bridge over Pacheco Slough. Built in 1947 to replace an older one, it looks less like a drawbridge than any other in the state.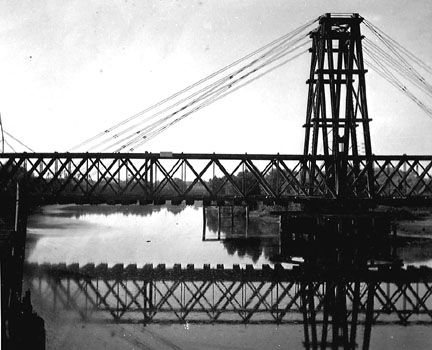 This hand-operated, 19th century looking, swing bridge was located across Montezuma
Slough at Chipps Island in Solano County. Built in 1912 for the Oakland, Antioch
and Eastern Railroad, later the Sacramento Northern, it was on the route between
Sacramento and Oakland. From Chipps Island the cars of the Sacramento Northern
were ferried across Suisun Bay, via the ferry Ramon, to Bay Point, in Contra Costa
County. From there, they continued on to Oakland via rails. Photo: U.S. Coast Guard.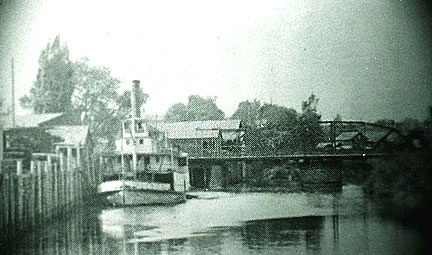 A river boat tied up downstream from the 3rd Street drawbridge, in Napa. Photo: U.S
.Coast Guard.

Built in 1873, this swing bridge was the first ever to span the Napa River. Located at
the foot of Third Street, in Napa, the lightly built iron bridge was intended to carry only
horse vehicles and pedestrians. In 1905, however, the Vallejo, Benecia and Napa Valley
Electric Railroad received permission to operated trains on the bridge. For the next
several years the bridge was host to trains, autos, horses and pedestrians. The span
didn't open often, and when it did, it was mostly barges bound to or from a planing mill
upstream from the bridge. This bridge was removed to make room for a fixed bridge
completed in 1932.

In 1928, many years after the Vallejo, Benicia and Napa Valley Electric Railroad became
part of Southern Pacific, it stopped using the Third Street Drawbridge. The operation
was moved to a new fixed bridge at Lawerence Street, where a short time earlier the
tracks had crossed the river on an old swing bridge.





North Bay Bridges #4
Petaluma River (Grandview), (Black Point), (Haystack Landing), ("D" Street), (Washington Street).
North Bay Bridges #5
Novato Creek (Bel Marin Keys), Richardson Bay (Sausalito), Corinthian Inlet (Belvedere-Tiburon).
North Bay Bridges #6
Corte Madera Creek (Corte Madera), (Greenbrae), Gallinas Slough (San Rafael), Gallinas Creek (San Rafael).