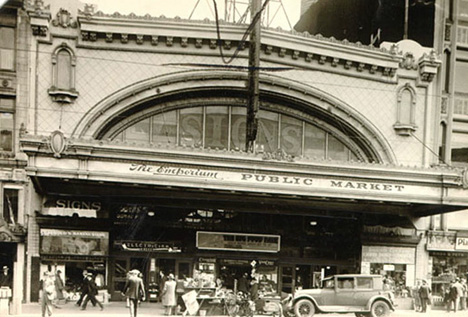 Yes, I know this is not a picture of the Crystal Palace Market, but it is just three years away from being so.
The Emporium Department Store opened this market in 1929 and operated it until the late 1930s. In 1931, it became the Crystal Public Market and a year later, the Crystal Palace Public Market. I do not know when the word public was dropped from the name nor do I know who owned the market.





Although this photo of the Crystal Palace Market was taken in 1953, it appears little
changed from 1932, when it came into existance.

The Crystal Palace Market was one of San Francisco's best loved markets, drawing
customers from across the bay and down the peninsula. It was the closest thing to a
"mall" one could find in the `30s, `40s, and `50s.

The "departments," of which there were many, were all independently owned. There
were multiple stands that sold mostly meat, cheese, poultry, fish or deli items, but lots
of other products were represented by individual stands too.

For me, as a youngster, it was the most inviting atmosphere I could imagine. The
sights, sounds and smells were incredible.

The store fronted at 1175 Market St. and had other entrances on 8th Street and at the back, facing the parking lot and Mission Street.




This photo was taken from the southeast corner of Eighth and Mission Street in 1958, a year before the store was closed.





An overview of one section of the market. The idea of giving out samples to the crowds of shoppers may have originated there — maybe not, but it sure was welcomed in the lean days of the 1930s.

 


One of four or five cheese stands in the market.




There were three or more poultry markets in the store most of the time. In the `30s and `40s, at least, there was a clear distinction between meat and poultry and not all meat markets sold poultry.





The fish stands were not my favorite, but they must have done a good business, since there were three or four of them.
Fish was seldom sold in regular meat markets during the `20s and `30s and maybe even much later.





On August 3, 1959, the Crystal Palace Market closed its doors forever and was torn down.
Two years later, in 1961, The Del Webb Town House (above) was completed on the site. This photo looks north east from the corner of 8th and Market.

This building is still in place, but is now an apartment house.