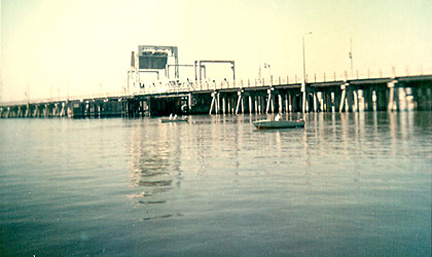 The small bascule bridge shown above was the second one of its kind to span the
Napa River, or Mare Island Strait, as it is called in that area. The original structure
was built in 1919, 67 years after the island became a navy installation. Located
about a half-mile downstream, it survived, but just barely, until 1935 when this
one was completed.

The bridge's 30-foot roadway carried two vehicle lanes, a set of railroad tracks
and a pedestrian walk. Connecting Mare Island with the City of Vallejo, as it does,
it was the site of some monumental traffic jams. Each time the bridge opened
for water traffic, auto and or rail traffic backed up several blocks. During World
War Two when 392 navy ships were built on the island, the activity over and
under the span became a nightmare.





With only 75-feet of horizontal clearance, large ships, like the one above,
sometimes had to be made to list to port or starboard to squeeze through
the draw. The open leaf did not attain a vertical position which created
a problem where some ships were in danger of hitting the leaf. Photo:
U.S. Coast Guard.








Early swing bridge over Tolay Creek. Photo: U.S. Coast Guard.

A few yards east of the western end of the toll road, it crossed Tolay
Creek, a tidal stream, formerly known as Midshipman Slough. Because Tolay
Creek joins Sonoma Creek and was then considered a navigable waterway,
a moveable bridge was required. In 1926, the Sears Point Toll Road Co. built
the above primative looking structure over the stream. Unfortunately, or
maybe not, the bridge was destroved by a fire before the toll road was actually
opened on the 4th of july, 1928.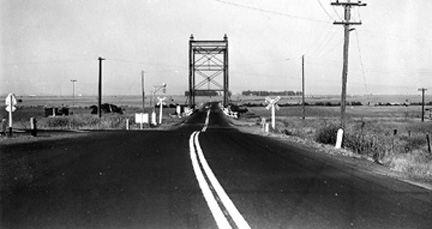 The Tolay Creek vertical lift bridge as it looked in 1949. The view, which looks
east, shows Highway 121 intersecting with Highway 37. Photo:Caltrans.



The above vertical lift bridge was completed over Tolay Creek in June of 1928,
just in time for the grand opening of the Sears Point Toll Road. It was hand
operated, but seldom had to open for water traffic.

In 1949, shortly after the above photo was taken, the superstructure of the bridge
was removed and the the formerly moveable span, declared a fixed span.
About twenty years later a concrete bridge took its place, leaving no trace of the
former drawbridge.




North Bay Bridges #1
Carquinez Strait (Martinez), Pacheco Slough (Martinez), Montezuma Slough (Chipps Island), Napa River (Napa).
North Bay Bridges #2
Napa River (Napa), (Brazos), (Vallejo).
North Bay Bridges #5
Novato Creek (Bel Marin Keys), Richardson Bay (Sausalito), Corinthian Inlet (Belvedere-Tiburon).
North Bay Bridges #6
Corte Madera Creek (Corte Madera), (Greenbrae), Gallinas Slough (San Rafael), Gallinas Creek (San Rafael).
North Bay Bridges #4
Petaluma River (Grandview), (Black Point), (Haystack Landing), ( "D" Street), (Washington Street).