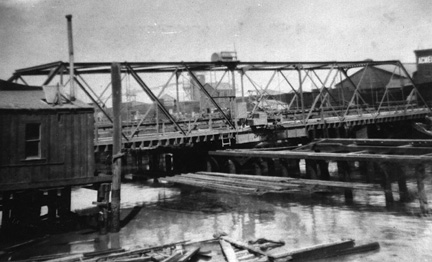 The steel swing bridge shown above spanned Mission Creek at Sixth Street. Built in 1891, it replaced an earlier manually operated, wrought iron structure that was literally worn out by the time it was removed.
Out of commission, off and on, for the last twenty years of its existence, the swing span was locked in the open position in 1957. The bridge was demolished and removed in c1965. S.F.P.W. photo.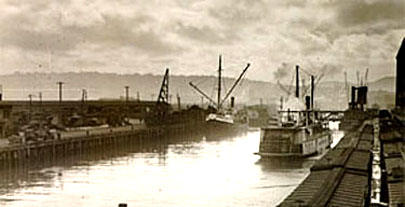 This photo, probably taken in the 1920s, looks west up Mission Creek toward the existing Fourth Street Bridge which can be seen just beyond the steamboat on the right. Roy Graves photo.

In 1879, the city of San Francisco built, at a cost of approximately $7,000, a small iron swing bridge across Mission Creek at Seventh Street. It is not known exactly when it was removed, but records show the bridge still in place in 1894. By 1913, there was practically no water in the creek at Seventh Street.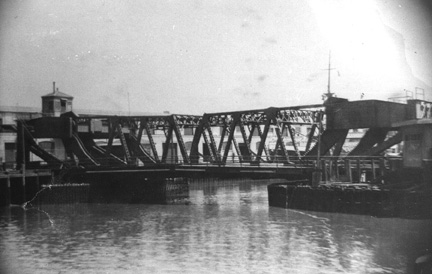 The above photo is of the original Third Street Bridge. This Strauss, double leaf bascule bridge, was built jointly by the Southern Pacific and Santa Fe Railroads in 1904-05, and given to the City of San Francisco. It was considered obsolete for at least ten years before it was replaced in 1933 by the existing bridge. S.F.P.W. photo.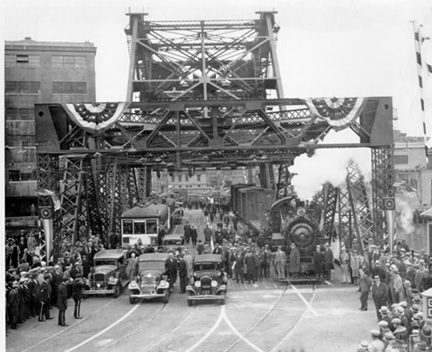 Opening Day for the new Third Street Bridge was May 12, 1933. Another Strauss designed span, it is now the Francis "Lefty O'Doul Bridge.
Although none of the three remaining drawbridges open often any more, this is by far the City's busiest. It opens several times a month, but mostly during the summer. S.F.P.W. photo.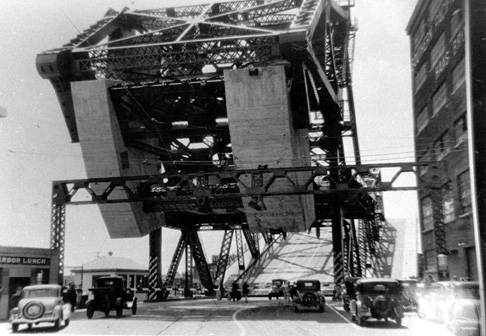 This c1935 view looks south through the Third Street Bridge. The 2550-ton leaf of the huge bridge is being raised or lowered. The huge concrete counterweights can be seen above the roadway. S.F.P.W. photo.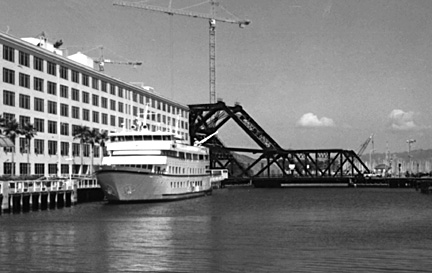 This 1999 photo, taken from the Fourth Street Bridge looks toward the mouth of Mission Creek. The "Lefty" O'Doul Bridge is seen in its closed position (closed to shipping). The cranes visable in the background were for the construction of Pac Bell Park, the new Giant'a baseball stadium adjacent to the bridge.