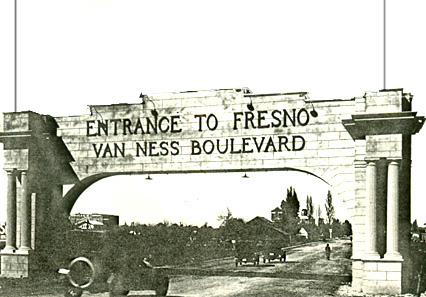 In 1917, this elaborate arch was constructed over the entraance to Van Ness Avenue at Railroad Avenue in Fresno. It was the brainchild of a group of businessmen who wanted to draw the attention of travelers to the California Hotel, which they owned. The arch was illuminated at night by floodlights from above.
Constructed of terra cotta over a wooden framework, it was destroyed by fire sometime prior to 1925. Until the freeway came to the area, Van Ness was Fresno's main Street. Photo courtesy of Fresno Free library.





Built to take the place of the original arch, the attractive one shown above was built in the exact same location in 1925. Van Ness was still the city's main street at that time, but it wasn't too many years before the freeway arrived and changed the traffic pattern to the point where very few travelers ever had occassion to see the arch. The area also began a change from retail to light industrial, wholesale and warehouses.
By the late 1960s the arch was in such bad shape it was thought to be in danger of collapsing, due to neglect and rust. The neon had not glowed in years.
In 1972, volunteers, including several from the painters union, using donated materials and equipment, sandblasted and painted the entire structure. Except for the neon, which still didn't work, it looked 100% better than it had in many years and brought new interest in it.
In 1980, in another act of civic pride, a local businessman, Frank Caglia and some others, donated consdiderable time, money and effort redoing the arch, including replacing the the neon. They also added new wording to both sides of the sign. On the front was added, THE BEST LITTLE CITY IN THE USA and on the back side, LEAVING THE BEST LITTLE CITY IN THE USA. There is now also a small reader board below the center of the arch on the front that reads, WELCOME.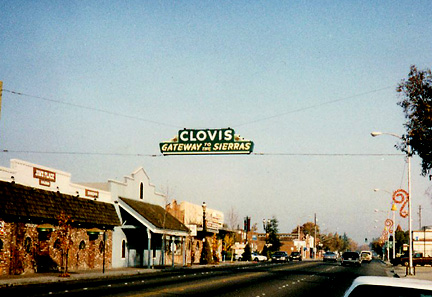 This is the third welcome sign to occupy this location on Clovis Avenue in downtown Clovis. The first, put up in 1931 and bearing the same message as above, was made of wood and the letters fitted with small electric bulbs. The second, erected in 1946, was similar, but painted green with white letters traced with white neon. The third, and existing sign, differs mainly in that the word Clovis is outlined with white neon while the slogan glows yellow.
Although the spelling of the word "Sierras" on the sign is grammatically incorrect it has purposely been left unchanged since the very first sign.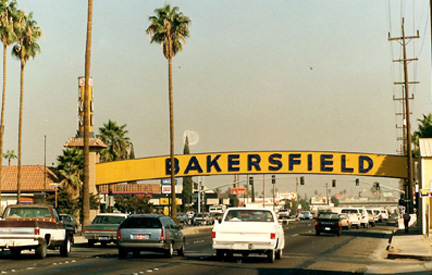 The Bakersfield Inn was built on the east side of Union Street (then Highway 99) in Bakersfield by two brothers during the Great Depression of the 1930s. By 1949, the inn had expanded to occupy both sides of the street, so on June 27, 1949 the owners dedicated the above arch which was built to join the two halves of the inn. The arch, which measures 6 1/2' high by 8' wide also served as a covered bridge connecting the lobbies on each side of the street. Spanning six-lane Union Street the structure provides more than 19-feet of vertical clearance at its center.
The state's realingment of Highway 99 away from the downtown in 1961, was the beginning of the end for the Bakersfield Inn and, eventually, the arch. After changing hands several times the Bakersfield Inn was history. That section of Union Street became blighted and the arch started a long period of deterioration.
By the end of 1990s, pressure by Caltrans to either move the arch or tear it down prompted a movement to relocate the arch to another site. Buck Owens, famous country western singer, TV celebrity and owner of the Crystal Palace Bar/Restaurant/Museum in Bakersfield, stepped forward. Along with his own large contribution, he spearheaded a drive to raise the approximately $180,000 needed to do the job. After it was moved and completely rebuilt, the arch was installed across Select Avenue at Buck Owens Boulevard. Looking exactly as it did at its original location, in the best of times, the arch is once again a very visable and welcome part of Bakersfield's scenery.
Buck Owens, who once produced a music vidio titled "Streets of Bakersfield," in which the Bakersfield Arch was prominent, reportedly pays for the maintenance of the arch, including the lighting. The new structure no longer serves as a pedestrian walk, however. Photo by Charles G. Webb.



If you know of any Welcome Arches in California, past or present, that are not shown or mentioned here, I would like to hear from you. In my book, Arch Rivals, I have many more and some will be added to this site, but I am always looking for any that I may have missed.

The towns of manteca and Selma both had welcome signs of the style seen in Clovis today. Unfortunately, I don't have good photos of them. I am still looking.


Click here to Email us